Portland Personal Injury Attorney
The Portland personal injury lawyers at DuBois Law Group have extensive legal experience with all for of legal practices involving everything that may have caused harm to an individual by someone else's negligence or reckless behaviors. It is our law office's job to ensure that our clients feel informed, well-represented, and receive the justice and fair compensation they deserve. If you are interested in speaking with experienced personal injury law experts from our law offices about your case, please call (503)-222-4411 for a free initial consultation.
Portland Personal Injury Resources
Why Choose A Portland Personal Injury Lawyer From DuBois Law Group?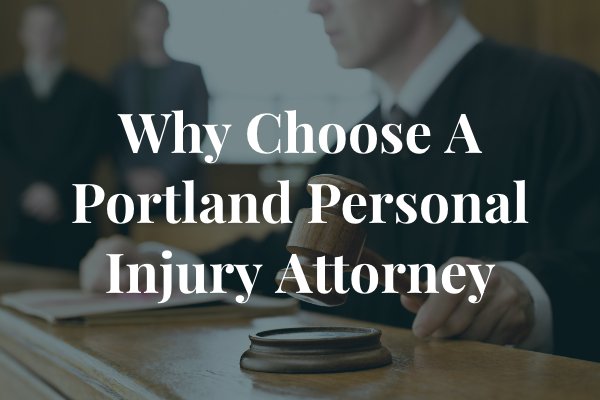 Our Portland personal injury law offices have a strong track record of successful settlements and jury verdicts. We advocate for you and have recovered millions of dollars on behalf of many people, including over $50 million in a five-year period alone.
Our firm takes a proactive role in our client's health through our separate medical department. We provide as much support and legal advice to our clients in their medical treatments as possible, and we will even recommend specialists who can provide you with the care you need.
Our law firm understands the financial hardship that often accompanies a serious injury and a strong case, especially when insurance companies are involved. For maximum affordability, our firm operates on a contingency fee basis. If we do not secure compensation in your case, you will not be charged legal fees for our evaluation.
It's easy to get frustrated with the law when it seems complicated on purpose, making it hard to navigate on your own. In addition, feeling this way while in pain or being unable to perform daily tasks because of an at-fault person makes things all the more difficult. So, hire an experienced attorney at the law offices of DuBois Law Group to make your life easier whether you are suffering from a car accident, wrongful death, or anything in between.
Not only does our law firm help provide accident victims with their deserved compensation, but they also hold a careless person or company responsible for a reprehensible act.
How Much Is My Personal Injury Claim Worth?
When you are filing a personal injury lawsuit, you may wonder how much compensation you can expect to receive. Settlements in personal injury claims are based on the individual losses you sustained and vary from case to case. You will need to speak with an attorney to receive an accurate estimate of your potential award.
However, there are certain factors that may influence the value of your claim.
Severe injuries: If you suffer very severe injuries, such as a brain injury or paralysis, you are more likely to see a higher award than plaintiffs who sustain minor injuries. Severe injuries require more medical care, long periods away from work, and long-term accommodations. Your pain and suffering award will likely be higher with a severe injury.
Complex liability: If the court believes you are partially responsible for your accident, your award may be lower due to Oregon's comparative negligence laws. Cases involving straightforward liability are not likely to be subject to these laws and the settlement will not be reduced.
Long recovery times: If you need to stay in the hospital for a long period of time, attend physical therapy appointments, or continuously suffer from your symptoms, your award will likely be higher. Longer periods of recovery often result in a higher amount of lost wages and medical expenses. Additionally, some pain and suffering formulas are based on the length of time you are incapacitated due to your symptoms, and long recovery times may yield a higher award.
What Are Some Common Causes of Personal Injury Accidents?
Some common causes of personal injury or physical harm caused by another's carelessness include:
And many more.
Unfortunately, misfortunes happen to us and we become accident victims. That's why we do all we can to put our legal experience, resources, and knowledge to work so that a person can be fairly compensated for their suffering and needs. At the law offices of DuBois Law Group, our legal experience helps accident victims or loved ones during the start of some of the most challenging times in their life.
What Are Some Common Injuries in Personal Injury Cases?
Personal injury incidents can involve serious and debilitating injuries that often require weeks or months of recovery time. You may need extensive medical care, long-term treatment, and rehabilitation. Some of the most common injuries in personal injury claims include the following.
Traumatic brain injuries: The brain is one of the most important organs in the body. During an accident, you may hit your head against a hard surface, have something penetrate your skull, or collide with a flying object. As a result, you can develop traumatic brain damage and permanent disabilities. Speak to a Portland brain injury lawyer today.
Neck/ whiplash: During an accident, such as a car crash or truck collision, your body may twist and move in unnatural ways. As a result, the soft tissues in your neck and upper back can become strained and torn, leading to severe pain and a condition known as whiplash. It can take months to recover from neck injuries.
Spinal cord injuries: Many of the muscles, tissues, and bones in the back can sustain an injury during an accident. Herniated or bulging discs, pinched nerves, sprains, and strains can lead to severe pain. In serious cases, you may sustain a spinal cord injury and become paralyzed below the injury site. Call a spinal cord injury lawyer in Portland to learn more.
Amputations: During many auto accidents, your limbs may become mangled and require amputation. In serious cases, the accident may sever your limb completely. This can impact your life in significant ways, both physically and emotionally.
Burn injuries: Especially regarding vehicle accidents, in some instances, there are fires involved during a crash or on a premise or defective products that can lead to severe burns that can only be treated with medical attention. Call a burn injury lawyer in Portland now!
Broken bones: Fractures and broken bones are very common in motor vehicle crashes, slips and falls, and many other types of personal injury claims. Depending on the severity of the break, you may need reconstructive surgery, casts, mobility equipment, and prescription medication.
Internal organ damage: Crushing injuries are common during many accidents, especially vehicle collisions and accidents involving heavy machinery. In these situations, you may sustain serious internal bleeding and damage to your organs, including the kidneys, spleen, lungs, and heart. Speak to a Portland truck accident attorney to learn more.
Also, if you or a loved one suffered an injury at the hands of a medical professional, please call to speak to our medical malpractice lawyers in Portland today.
What Damages Are Available in Oregon Personal Injury Lawsuits?
If you are injured due to another person's negligence, you have the right to hold him or her accountable for your losses via a personal injury lawsuit. Oregon law allows you to recover compensation for economic losses, or financial damages, as well as non-economic pain and suffering losses. Some of the most common forms of financial recovery in personal injury claims include the following.
Past and future medical expenses
Lost wages
Loss of future earnings
Property damage
Rehabilitation and physical therapy
Mobility equipment
Loss of quality of life
Emotional distress
Depression and anxiety
Chronic pain
Disability
Disfigurement
Post-traumatic stress disorder
In cases involving malice, a reckless disregard for the safety of others, and a conscious indifference toward the threat of harm, you may also be eligible for punitive damages. Unlike compensatory damages, which are intended to reimburse you for the losses you sustained, punitive damages are meant to punish the at-fault party for, especially dangerous behavior. Speak to a car accident attorney in Portland to determine which forms of compensation you are qualified to receive.
What Are the Four Ways to Receive Compensation in a Portland Personal Injury Case?
In Oregon, there are four pathways that you could take to recover compensation: negotiation, mediation, arbitration, and trial. When pursuing a legal claim, it is important to understand each of these options and how they could benefit your case.
Many personal injury cases are settled before entering the courtroom, but in some cases, it is best to go to trial. Your legal representation from the DuBois Law Group can evaluate your options and identify your optimal path to compensation. 
Negotiation
Negotiations can occur at any point during the personal injury process. These discussions are an attempt for you and the at-fault party or defendant to come to a settlement agreement before your lawsuit is filed or goes to trial.
Usually, negotiations take place between you, your attorney, the defendant, and the defendant's lawyer. If you are pursuing an insurance claim, the defendant's insurance company representative will participate in negotiations.
If negotiations are successful, you will reach a settlement and your case will conclude. Your case will proceed in the lawsuit or insurance claims process if you are unable to reach an agreement.
Mediation
Negotiation and mediation are very similar processes with key differences. Mediation is a process where a neutral third party will listen to both sides and help the parties reach a solution. This third party, known as a mediator, is impartial and trained in helping people settle disputes.
Compared to arbitration or trial, mediation is usually faster and less expensive to participate in. However, the mediator is not the party who agrees to a solution or implements a decision. Their role is to help everyone come to a mutual agreement.
If the parties can reach an agreement, they will agree to a settlement and the case will end. If no agreement is reached or either party requests a trial, the case will proceed. 
Arbitration
Instead of engaging in mediation, some personal injury victims opt to go through arbitration. Like mediation, a third-party arbitrator oversees the arbitration process. However, these proceedings are more similar to a trial than negotiation or mediation.
During the arbitration, the defendant and the plaintiff will have the opportunity to present evidence to the arbitrator, who is chosen by both parties. The arbitrator will then make a decision in the case, and both parties will decide whether to accept or reject it. 
Trial
The trial is usually the final step in a Portland personal injury claim. During this process, both parties will present evidence and arguments to a judge or jury. Depending on the complexity of the case, trials can last a few days, weeks, or even several months.
Trials can be very expensive and time-consuming, which is why many parties choose to settle beforehand. The judge's decision in the trial is final; the parties will not have the ability to negotiate any terms. 
How Can You Prove a Personal Injury Lawsuit in Oregon?
To secure compensation in a personal injury claim, you will need to provide enough evidence to establish the other party's negligence. There are four key elements of negligence that you will need to prove.
Duty: The at-fault party must owe you a duty of care at the time of the accident. This duty varies based on the circumstances surrounding your accident. For example, if you are in an auto accident, the other driver has a duty to follow traffic laws. If you are injured on someone else's property, the owner has a duty to maintain safe premises.
Breach of duty: The at-fault party must breach his or her duty of care through a negligent act or failure to act. In an auto accident, for example, breaches of duty may include speeding, running a red light, or distracted driving.
Causation: The at-fault party's breach of duty must cause your accident and resulting injuries. For example, a driver running a red light and colliding into your vehicle as it crosses an intersection causes an accident. If he or she had stopped at the light as dictated by Oregon traffic law, the collision would not have occurred.
Damages: You sustained damages in your accident that you can collect through your lawsuit. You can use many pieces of evidence to establish your right to damages, including medical bills, invoices, pay stubs, journal entries, and expert witness testimony.
Although these elements seem straightforward, liability in Portland personal injury claims can be complicated. If the at-fault party claims that you are partially responsible for the accident, Oregon's comparative negligence rules will apply. This law reduces your settlement amount by the percentage of liability you allegedly share. If you are more than 50 percent responsible for the accident, you will not receive any compensation.
In these situations, you need a good law firm on your side. Luckily, your injury lawyer from DuBois Law Group can help you gather and present the evidence necessary to establish the at-fault party's negligence. He or she can also defend you against accusations of shared liability and protect your award from Oregon's comparative negligence laws.
What If I Am Partially at Fault?
Oregon follows a modified comparative negligence rule in cases where a personal injury plaintiff is partially responsible for his or her accident. If the court finds that the plaintiff is more than 50% at fault, he or she will not receive any compensation. Otherwise, the court will deduct the percentage of liability from the final award.
For example, say that a court determines that you are 40% responsible for the accident. If you request $50,000 in compensation, you would only recover $30,000.
Not Sure If You Have A Case?
There are a lot of uncertainties after an accident. We are here to answer your questions. Give us a call at (503)-486-3618 for a FREE consultation with a Portland personal injury attorney.
If a person is injured because someone else was careless, the injured person has rights and may be able to obtain compensation from the careless individual.
Personal injury cases are complex. Personal injury victims not only face physical challenges but emotional and financial hurdles as well. In some situations, an individual may need long-term medical care and treatment for the injury that resulted from an accident. This is where a personal injury lawyer with years of experience handling such cases can help.
Thankfully, there are strict laws in Oregon. If your injury was someone else's fault, it is expected that they pay all the costs associated with your injuries, including medical bills. At DuBois Law Group, our experienced Portland personal injury attorneys make sure our clients receive what they deserve. Represented by us, if a court of law finds the other person to be at fault, we will work tirelessly to recover costs such as medical bills, wages lost as a result of injury, physical therapy fees, and more.
As personal injury lawyers in Oregon, we understand how overwhelming being injured in an accident caused by another person's carelessness can be. We are dedicated to making this challenging process as simple as possible for you and your family. Contact us today by calling (503) 486-3618 for more information about your legal rights and for a free consultation of your case.
What to Do After Experiencing a Personal Injury?
If you experience a personal injury in Portland, it is important to remain calm and seek help immediately. If possible, call 911 and report the accident to law enforcement—this will create a police report that you can use for your future claim. At the scene, take as many photographs of your injuries, property damage, and the area around the accident as you can. Collect information from witnesses and keep your interactions with the at-fault party brief.
Seek emergency medical attention and save all records related to your treatment and injuries. You should always seek treatment after an accident, even if you feel uninjured. Your medical records will be extremely important for proving your case. Failure to seek medical care could cause an insurance company representative to claim that your injuries are not serious—reducing or denying your award as a result.
Once you receive treatment, speak to a Portland personal injury lawyer as soon as possible to discuss your legal options.
Contact A Portland Personal Injury Attorney From DuBois Law Group
If you are injured by another person, you have the right to seek justice. In these situations, the Portland personal injury attorneys at DuBois Law Group can help. Our lawyers can represent your insurance claim, advocating aggressively for maximum compensation on your behalf. Contact us today to schedule your free initial consultation and learn more about your legal options. (503) 222-4411.